HO Scale
Updated: 1/14/2012
An ongoing major project that was started during this last winter shutdown, is a redo of about a 12 ft section of trackwork in Niles canyon. The layout design of some 25 years ago assumed maximum car lengths of about 50 ft. We now find that long cars like autoracks and 90 ft-long intermodal equipment uncouple on a modest vertical curve between the two bridges. The rework eliminates this.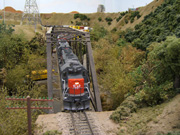 This picture looking rairoad east shows part of the original track and scenery that will be redone to fit the new configuration. The train is westbound, just crossing the first of two major girder bridges. Rerouting the track will also require rerouting of the river bed (right side of picture under the foliage) and moving this first bridge a little further east.
Here is a photogallery that will show our progress - currently showing original scenery.
&nbsp